Loosen up yourself, feel the recreation and abound in the open air fire meeting by outdoors at Pawna Lake Camping. We, Pawna Lake Camping, coordinate Lake Side Camping at backwaters of Pawna Dam close to Lonavala. The pleasant campground offers a ravishing perspective on the lake arranged right inside the center of the enveloping Sahyadris. Grill, Sumptuous Meals and Adventure Activities like Archery, Rifle Shooting, Kayaking, Motor Boat Ride, Pedal Boating makes the occasion of outdoors energizing and invigorating one. With the reinforcement of Power Generator, our campground is very much enlightened guaranteeing an undisturbed encounter to our clients.
We additionally give different bundles of Camping close by different experience exercises. If it's not too much trouble, visit our bundle segment to comprehend the exact subtleties of a same . We likewise take customized prerequisite to supply you what you might want . In this way, kindly be glad to return along with your inquiries so on serve you a far superior encounter.
Pawna Lake Camping journeys are a good thanks to exploring and skill nature and it's a good outside activity. there's forever one thing concerning habitation accessories that distinguishes the expedition from usual non-habitation journeys. it's not on a daily basis that somebody spends an evening within the tents close to the lakeshore on the foot of the mountain. if you're trying to find such wonderful expertise then pawna tent habitation is wherever your dream comes true.
Pawna Lake Camping Package And Rates
Bachelor Camping
4 PM to 11 AM
₹
1299
Per Person
BBQ 250 grams PP (veg/nonveg)

Dinner Unlimited (veg/nonveg)

Breakfast Tea, Poha, Bread-jam
Family Camping
4 PM to 11 AM
₹
1499
Per Person
BBQ BBQ 250 grams PP (veg/nonveg)

Dinner Unlimited (veg/nonveg)

Breakfast Tea, coffee, Poha, Bread, Jam, Anda bhurji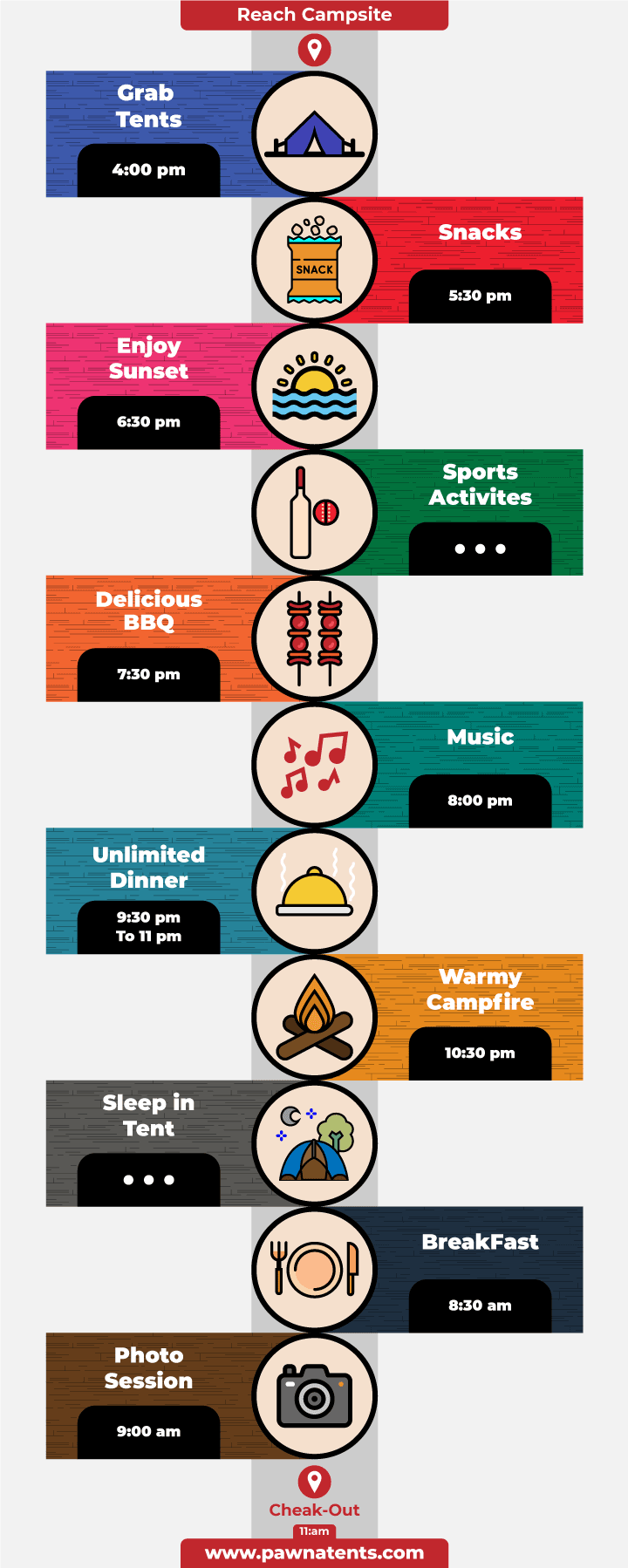 What is the schedule of Pawna camping?
Check-in after 4:00 PM (late check-in allowed but early check-in not allowed)
Snacks from 5:30 PM to 6:00 PM
BBQ from 7:30 PM to 9:00 PM
Bonfire after 9.30 PM
Dinner from 9:30 PM to 10:30 PM
Silent hours 12:00 AM to 6:00 AM
Next day breakfast from 8:00 AM to 9:00 AM
Check-out at 11:00 AM (late check-out not possible but early check-out allowed)
What are the meals at campsite?
Snacks: tea and pakoda
Veg-BBQ: marinated paneer with assorted veggies
NonVeg-BBQ: marinated chicken with assorted veggies
Veg-dinner: veg or paneer sabzi, chapati, dal-tadka, steamed rice, salad, sweet.
Nonveg-dinner: chicken sukha, curry, chapati, steamed rice, salad, sweet.
Breakfast: Tea Poha, Bread, Jam.
How is the Tent Arrangement?
We provide a group tents for 3 or 4 people. A couple Tent for 2 is also available. Communicate with our coordinator accordingly. You don't have to share a tent with strangers. Pillow, Foam Mattresses, bedsheets, Blankets will be provided in the tent.
What is the Cancellation Policy?
33% Reservation amount is Non Refundable incase of Cancellation done 24 hours prior. However you can reschedule camping upto next 6 months except peak seasons.
Incase of Full payment – 24 hour prior cancellation is done then 67% amount will be refunded in next 4-5 Days. You can reschedule camping upto next 3 months and pay the 67% on arrival.
Incase of No Cancellation notice 24 hour prior/ No show at the checkin time, there will be no refunds and no reschedules.
We assure you the hygiene of the place is well taken care of. And the quality of the service is really good.
How to reach Pawna Camping ?
Google Map Location Will be Given to you After Booking Confirmation. You Have to Follow Google Map. Pawna Lake is 110 Km From Mumbai & 70 Km From Pune. 
10 REASONS TO BOOK ON PAWNATENTS.COM?
We Provide You Best Service !
We accept all credit/debit cards, wallets, internet banking while online booking.